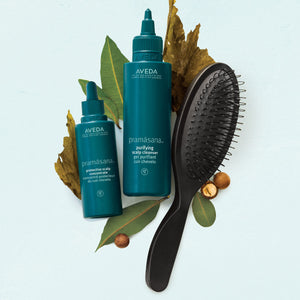 Pramāsana™ Exfoliating Scalp Brush
Product Highlights
In preparation for optimal scalp cleansing, dry brushing begins the cleansing process by exfoliating the scalp to help loosen build-up and impurities.
This brushing technique also helps increase microcirculation, creating an optimal foundation for beautiful hair.*
*When used with pramāsana™ purifying scalp cleanser
Pramāsana™ Exfoliating Scalp Brush
Exfoliates the scalp to help loosen build-up and impurities in preparation for optimal cleansing.
• helps increase microcirculation to the scalp when used with massage
• looped bristles massage without tangling hair
• creates the optimal foundation for beautiful hair*
*When used with the pramāsana™ purifying scalp cleanser
The paddle brush is designed with one bristle missing in the bottom, middle half of the brush. This hole is to provide ventilation and to aid in drainage after the brush has been washed. Additionally it helps to prevent any bacterial growth that could occur with pooling water on the inside of the brush.
HOW TO USE?
Massage dry scalp daily, in or out of shower. For best results, follow with pramāsana™ purifying scalp cleanser.
ABOUT THE BRAND
Founded in 1978 in Minneapolis, MN, Aveda creates plant-based hair, skin and body products for beauty professionals and consumers. Aveda innovates in botanical technologies, combining the principles of modern science and Ayurveda, the ancient healing art of India, to develop performance-driven hair, skin and body products—made with pure flower and plant essences—that are created with respect for the Earth. Aveda is born cruelty free and has never used parabens, mineral oil, petrolatum, paraffin, formaldehyde, SLSand SLES, oxybensone, benzene , retinyl plamitate, microcrystalline wax, polyethelene beads, tricolsan, triclocarban, lanolin, carmine, talc or synthetic fragrance.
Reviews