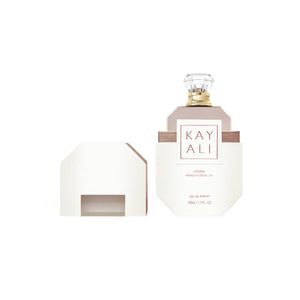 Kayali Utopia Vanilla Coco | 21 Eau de Parfum
Product Highlights
Top notes: Honeysuckle, Pear Blossom, Italian Lemon, Coconut
Middle notes: Jasmine Gardenia, Tuberose, Ambrette
Base notes: Sandalwood, Patchouli Heart, Vanilla Bourbon, Musks
Intense Concentration. Long Lasting & Diffusive Formula.
Take a dip in your daydreams, where the clouds seem within reach and you're blissfully floating in a glittering pool of possibilities. Utopia Vanilla Coco | 21 50ml is an Eau de Parfum Intense with the fragrance of creamy sandalwood and sweet white florals are topped with milky coconut, then whipped together with vanilla bourbon to evoke that sense of freedom from reality, transporting you to your perfect world, your Utopia.
The third scent within our KAYALI Intense Collection | 02 – UTOPIA VANILLA COCO | 21 (and if you loved our KAYALI VANILLA | 28, prepare to be totally obsessed!).
The number 21 indicates the 21 rounds of formula modifications that went into creating your new fave fragrance!
HOW TO USE?
HOW TO USE?
For a Stop-You-in-the-Street Scent: Spray UTOPIA VANILLA COCO | 21 on your pulse points, hair and/or clothes. Mona's Tip: Spray your hair towel before drying your hair - it will leave a lovely, delicate sillage!
ABOUT THE BRAND
ABOUT THE BRAND
KAYALI, which translates from Arabic to 'my imagination,' features a collection of captivating fragrances, handcrafted in France using the most luxurious ingredients. This first collection is designed to be layered and combined to create a scent that is truly yours. Inspired by the rich heritage of the Middle East, KAYALI reflects limitless possibilities, personalities, and desires to celebrate and enhance one's infinite layers. "Bespoke beauty is something we're very passionate about and KAYALI is all about discovering your own unique fragrance. A fragrance for every layer of you."—Mona Kattan "The sense of smell is the most powerful of all the senses, and so many of my memories are tied to a specific scent. I can reflect back to a time and place in my mind when I smell a certain fragrance—it just has the power to transport me. What we wanted to achieve with KAYALI is a fragrance collection that invites exploration and creativity, to create scents that are truly their own."—Huda Kattan
INGREDIENTS
INGREDIENTS
utopia vanilla coco | 21 eau de parfum vc 02/31.394 (us, ca, and eu) sd alcohol 40-b/alcohol denat., fragrance/parfum, water/aqua/eau, ethylhexyl methoxycinnamate, ethylhexyl salicylate, avobenzone/butyl methoxydibenzoylmethane, bht, citral, geraniol, limonene, linalool, benzyl alcohol, benzyl salicylate.
Reviews
Open tab